Sharon Osbourne Has Had Four Face Lifts, She Can't Remember The Times She Went Under Knives But We Do!
Published Fri Feb 07 2020 By DGM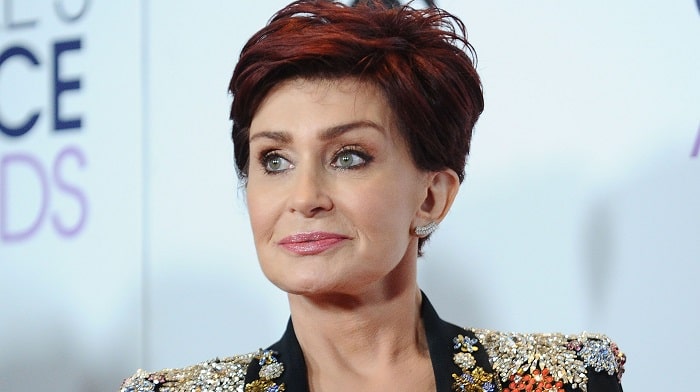 The famous American television personality, author, and businesswoman, Sharon Osbourne has gone under the knife several times and has enhanced her body. Despite being a wife of a huge tattoo fan, Ozzy's better half hasn't inked any tattoos on her body yet.
Osbourne unlike any other Hollywood celebs, has openly admitted about the plastic surgeries she has had throughout the years. Here are all the details about the plastic surgeries she has underwent for beauty enhancement, over the years. Let's jump right into it!
Sharon Osbourne Before & After
Kelly Osbourne's mother has transformed a lot throughout her career, all thanks to her plastic sergeant.
The picture below, shows the transformation she has had in over the years. She honestly, looks younger than ever after the perfectly planned plastic surgery which has backfired on various celebrities like Joan Van Ark, and Pete Burns.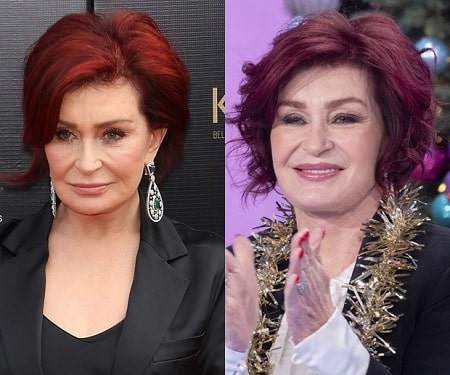 The above picture, clearly shows that she has altered her body following all the extensive enhancements. From nose to lips, every single part of her face looks so different in both of pictures.
Numerous Face-lifts
The 'Sharon Osbourne Unbreakable: My New Autobiography' writer has had her face lifted four times and has always been very open about.
She has also admitted going through a forth face lift in September episodes of Jimmy Kimmel Live. She admitted that she was five weeks out of face lift surgery when she visited Jimmy.
She also admitted refining her neck and jaws as well. Moreover, she also said that they put an elastic band on the top of her head after pulling wrinkles off her face to make her face stays in its position securely. She experienced a lot of pain under her chin after all her face-lifts and shared that she could barely feel her face.
Botox
Sharon has also used Botox to reverse the ageing symptoms. She has gained a glowing and youthful skin from the treatment but also looks a bit unnatural at the same time.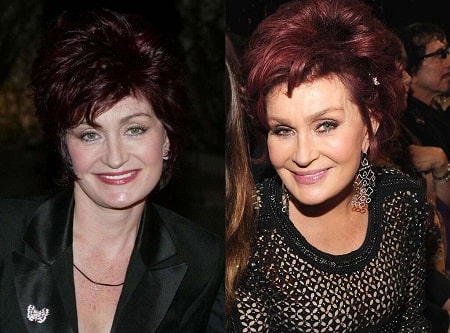 Double Mastectomy
Back in 2012, Sharon underwent double mastectomy procedure, a surgery where the breasts tissues of a woman's breasts are removed in order to prevent breast cancer in the future.
She decided to get her tissues removed from her breasts after learning that they could possibly cause breast cancer, better safe than sorry, for the former cancer survivor reality star!
Osbourne has expressed that she wants to live longer and enjoy being grandma of her grandchildren. So, it was not much of a confusing decision for her to remove her breasts tissues though affected her shape and appearance.
Breast Implants & Extraction Surgery
Ozzy Osbourne's wife has also had her breasts enhanced a long time ago but the implants caused serious infection and she shared that she wasn't even able to move freely after the implants, and Sharon removed it, for good!
She in her book has shared the painful experiances she had after she added the implants. She has shared that her breasts were usually sore. Therefore, she remove them because of her health concern.
Eyebrow Lift
As the reality television star has admitted that she barely has any part of her body left unrefined, so its obvious that she has altered the appearance of her eyebrows through a cosmetic surgery.
She lifted her eyebrows a bit reducing the wrinkle lines across her forehead and nasal bridge.
Vaginoplasty
The mother of three has also had a vaginal cosmetic surgery and had her vagina tweaked in the past. She had her intimate body part tightened as it got loose and slack after giving birth to her children.
She opened up about her vaginoplasty when she appeared as a guest on 'The Graham Norton Show'. She said that the procedure was really, really painful.
Last year, Osbourne was trolled by fellow Australian comedian and actor, Barry Humphries on 'Dame Edna Rules The Waves' which aired last December.
She, without hesitating, answered that she had her vagina done. Also adding that she doesn't like people who talk behind her back, and slammed her haters saying they should talk about her when she's around and will always openly tell the world about her procedures.
Liposuction
Sharon also did a liposuction procedure in the late 90s removing the fat from her stomach. Her desire for a slimmer and curvy waist got her to opt for the surgery.
She told that she spent more than $120,000 for liposuction and some other procedures like Botox and facelift she had at that time.
Gastric Bypass Surgery
In 1999, the 'The Talk' host also underwent a gastric bypass surgery which is one of the proven surgeries to loose weight.
After the treatment, the surgeons made some changes to her intestines by rearranging them in such a way that she would feel full with considerably less food than ever.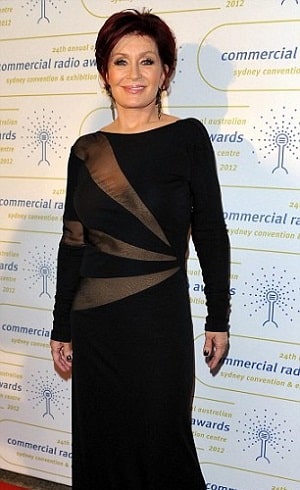 The surgery altered the way Sharon's stomach handles the food she eats. So, she lost over 100 pounds easily at a short period of time after that surgery.
Check out Glamour Path for more latest and updated information about other celebrities' plastic surgery.
-->