Chloe Ferry Plastic Surgery - 10 Obvious Modifications On Geordie Shore Star's Body, Explained!
Published Sun Feb 09 2020 By DGM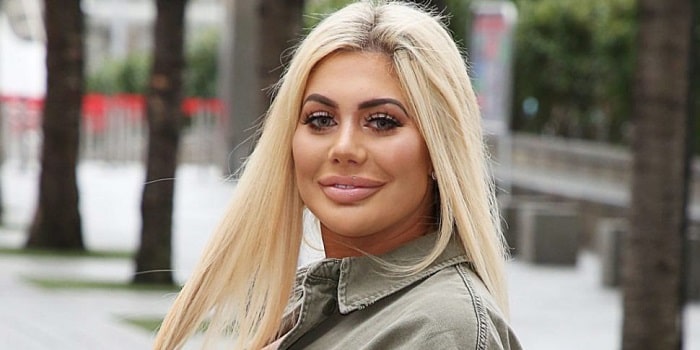 The famous English television personality and actress, Chloe Ferry, is a surgically enhanced babe who has gone under the knife several times and has had several modifications over the years.
Ferry has always been open-minded when it comes to revealing her procedures to the world. She has admitted to all the surgeries she has done up to now.
As a matter of fact, she openly states that she likes the results gained from the process.
Here is a compiled list of all surgeries she underwent, let's get them all!
Chloe Ferry Before & After
Chloe has gone through a series of plastic surgeries to transform her appearance after her work in 'Geordie Shore'.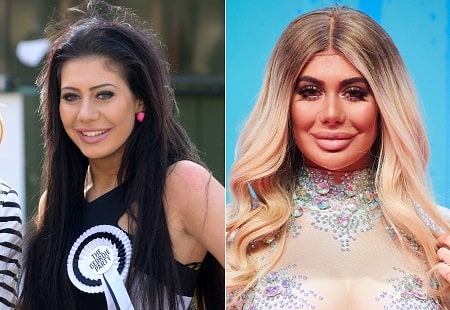 Her picture in the left side flaunting a black tanl-top is from her early TV appearence and the picture o n the right shows how she looks now!
We can easily see her lips are a lot different than what it used to look like, her nose-line is smaller, and has a broader eyebrows.
The above picture clearly shows that Ferry has shocking turned into a surgically enhanced babe from being a naturally beautiful person. So, we can say that she now has a carefully enhanced body.
Numerous Lip Jobs
The Newcastle born star went through a countless lips remodeling sessions to bring a whole new appearance to her face.
She has always been open about her lip injections and has shared the whole journey via her Instagram. Additionally, she hasn't shied away from giving updates on her lip surgeries.
Thankfully, from the beginning, her fans have been together with her throughout her plastic surgery journey and have always supported her decisions.
Botox
Chloe has also had her face injected with Botox injections. Though some say that she is very young to have the treatment which is mostly done to reverse the effects of ageing, she readily injected on her forehead lines, part below eyes, and cheeks with Botox injections.
While some of her fans seem worrying about her face, the rest of them appreciate the changes she gained from the complex process.
Eyebrow Lift
Sam Gowland's ex-girlfriend has also had her eyebrows lifted a couple of times. She has spent around $5500 to raise her eyebrows and reduced the wrinkle lines area above her eye before they even got to appear properly.
She did the surgical treatment not for correcting and reversing the aging symptoms, but because of her desire to have a perfect eyebrows. She wanted to make her eyebrows look exactly perfect, all props to her doctor, they do complement her new looks. As per Chloe, she first had her eyebrows done when she was just 20 years old.
Breast Augmentation
Chloe also underwent a breast augmentation surgery multiple times and had her bust boosted.
Her huge bust size also has altered over the years. She has gone from having a considerably small boobies to having a big and sexy breasts.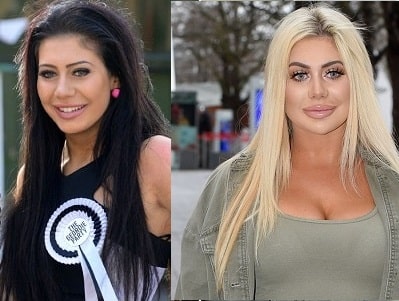 Prior to enhancements, Ferry stated that she wouldn't have one because already had nice breasts.
The statement nonetheless, got her trolled in social media after she got her breasts lifted. The reality star seemed unaffected by the trolling game as she again went under knifes to get her breasts further enlarged.
This time, the actress had her breasts enhanced at London Bridge Plastic Surgery & Aesthetic Clinic from UK's finest Christopher Inglefield. The surgery which she claimed was a double-whammy surgery usually costs around £15,000.
Following the surgery, she said that she's got the best breasts she always desired, her whole entire life.
Liposuction & Buttocks Implants
Back in 2018, Chloe traveled all the way to Marbella, Spain in order to get a liposuction.
She removed the fat from her belly and injected them into her buttocks. She also opted for a Brazilian Buttocks surgery willing to achieve a Kardashian-style set of buttocks but she had to pay a very painful price as she couldn't sit properly for weeks.
The Pain Was Worth The Gain
Following her buttocks surgery, she said that she is proud of her buttocks and she will not stop going under the knife in the future if she has to! May be she is living up to the phrase "Live Free And Die Young".
Dermal Cheek Fillers & Chin Job
The 'Chloe Ferry is a Grown Up' star has also admitted that she had her cheek and chin enhanced through cosmetic treatment.
She said that she brought a new look to her face by filling her chin with fillers which made her jaw pop.
She isn't done with her frontal looks and is wanting to remove the excess muscles from her cheeks, she admitted that she also applied dermal fillers. She is expected to have spent around £1200 on refining her cheeks and chin.
Nose Job
The British actress also had her nose enhanced after going through a series of rhinoplasty surgeries. She had her first ever rhinoplasty in May of 2016 intending to correct the tip of her nose which according to her, was imperfect.
Opposite to her expectation, she was not satisfied with her nose after the surgery.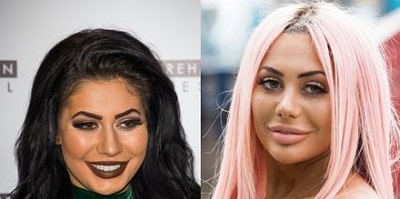 In an interview with The Sun, Ferry told that she hated her nose because it was just too small and her nostrils needed to be widened. Also adding that she couldn't breathe properly, she again had a nose done in 2018.
She featured her new nose through her Instagram when she uploaded a picture of her nose being wrapped and covered by a cloth.
Veneers
In April 2015, Chloe visited a dental surgeon in Britain and had her teeth covered with a full set of veneers. As veneers are really expensive, she might have spent around £28,000 to achieve her sparkling white smile.
Eyebrows Tattooed
Ferry has also inked both of her eyebrows with semi-permanent makeup so that they would appear fuller. Though it is not exactly a plastic surgery, but is worth mentioning.
She tattooed her eyebrows which was previously lifted through an eyebrow lift surgery and filled the space that looked stretched after an eyebrow life.
Follow Glamour Path for more exciting and latest information about other celebrities's surgeries.
-->